Theres a bunch of shit on our Ebay... and I thought some of you would be interseted.... (click on the picture you'll go to the ebay page)
I'm sorry it's only Paypal)..


Lot of 3 Punk Rock Vinyls..

D.O.A. - POSITIVELY (Alternative Tenticles, 1981) 7"
BLACK FLAG - SIX PACK (SST Records) 7"
D.R.I. - VIOLENT PACIFICATION (Dirty Rotten Records, 1984) 7"



Lot of 2 Dropkick Murphys Vinyls....

DROPKICK MURPHYS / THE BUSINESS SPLIT - Mod Mentality (Taang Records, 2000) 7"
DROPKICK MURPHYS- Curse of a Fallen Soul (TKO Records, 1998) 7"



Punk Oi Lot...

BLITZ - WARRIORS 7" (Made in England)
BUZZCOCKS - SPIRAL SCRATCH 7" (Made in England, 1977)



INFEST LOT...

INFEST - NOT OVER YET 7"
INFEST - INFEST 7" (Deep Six Records, comes with a mini-poster)



DEAD KENNENDYS LOT.....

FRESH FRUIT FOR ROTTING VEGATABLES 12" (Comes with Lyrics, and Newpaper Article and Pictures from October 11, 1980)
IN GOD WE TRUST 12" (DOES NOT COME WITH LYRICS, 1981)
BEDTIME FOR DEMOCRACY 12" (UK PRESSING, Comes with Lyrics, and "Newspaper" made by the band)
KILL THE POOR 7" (1980)
TOO DRUNK TO F*CK 7" (1981)
POLICE TRUCK 7" (1980)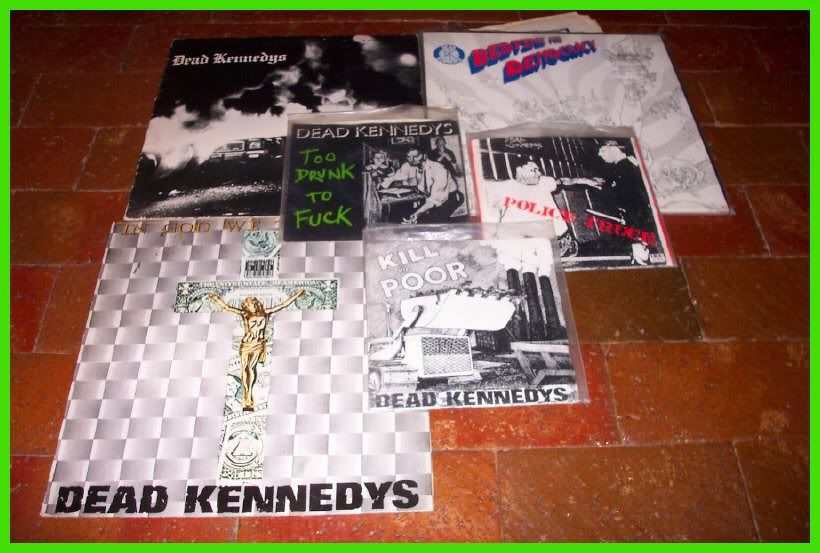 HOT WATER MUSIC LOT....

1 Hot Water Music Vinyl, 2 Rumbleseat Vinyls (Members of Hot Water Music), and 1 Hot Water Music T-shirt Size Mens M/L




ORIGINAL STRAIGHTEDGE LOT.....XXX.....

YOUTH OF TODAY - Break Down The Walls 12" (Posi Numbers Fest 2002, Limited Edition 28/60, Includes Lyrics)
GORILLA BISCUITS - GORILLA BISCUITS Banana Wax 7" (Yellow Vinyl, 1988, Comes with Poster and Lyrics)
UNIFORM CHOICE - Original Demo 7" (2 Records, July 19, 1984, Lyrics included)
YOUTH OF TODAY - Live at Van Hall, Amsterdam, 1989 7" (Live Record, Lyrics included)
BOLD - BOLD 7" (March 1989, Lyrics included)




Your broke ass bitch,
Jabs!!!